---
The Idaho HOSA State Officers are elected each year by a voting delegate consisting of 2 student representatives from each affiliated Idaho HOSA chapter, in addition to an Interview Committee. Each officer candidate must give a 2–3-minute speech, then answer questions pertaining to HOSA during the delegate session held each year at the HOSA State Leadership Conference.
2023~2024 – Idaho HOSA State Officers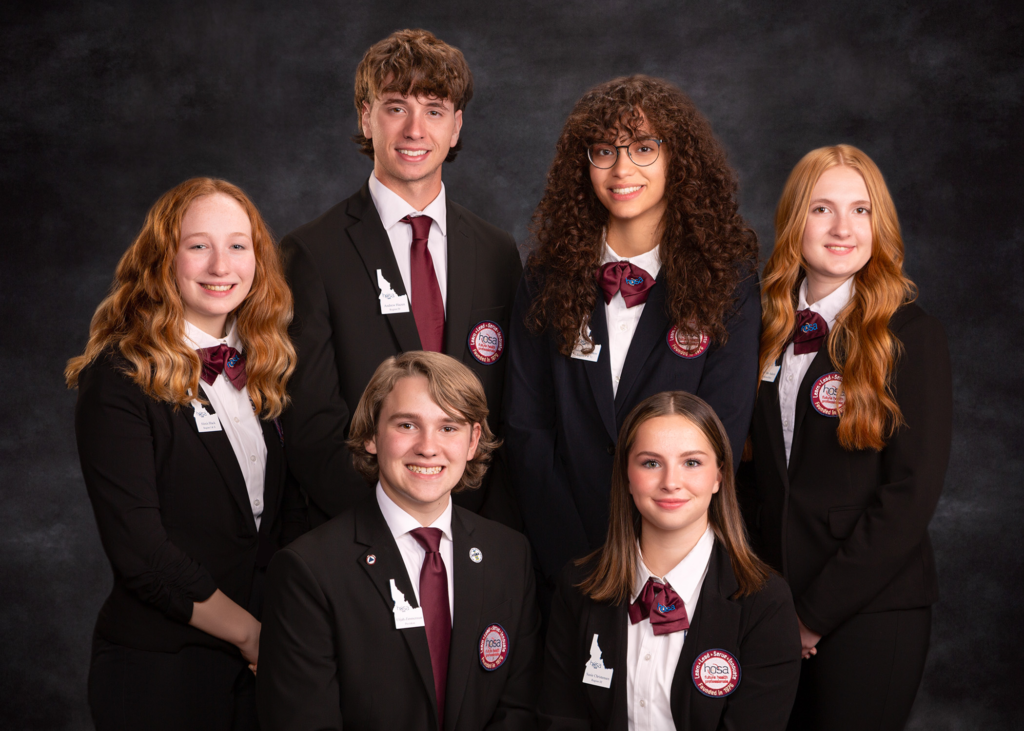 President Elijah Zimmerman will be a senior at Meridian Medical Arts Charter High School (MMACHS). This is his fourth year as an IdaHOSA member. After graduation, he is planning on pursuing a degree related to emergency medicine and working as a paramedic. Elijah's goal for the coming year is to encourage all IdaHOSA members to voice their opinions, so the officer team can help provide our members with a great HOSA experience. Helen Keller wrote, "Ideas without action are useless." "Don't let any idea or thought that you have gone unsaid, you and your belief matter".
President-Elect Jentri Van Ackern, in the fall, will be a senior at Meridian Medical Arts Charter (MMACHS). She has been an IdaHOSA member for three years. Upon graduation, Jentri will be the IdaHOSA President and is planning on attending Idaho State University (ISU) and enrolling in their nursing program. As the President-Elect this year, she hopes to give IdaHOSA members a voice, find avenues for them to express their concerns, and create greater opportunities for ALL members. Jentri's advice is "Be confident in what you know, trust yourself and your knowledge. If you hit a wall, build a ladder and climb over."
Region I & II Alexis Black will be a senior at Meridian Medical Arts Charter (MMACHS). She has been an IdaHOSA member for three years, and after graduation, Alexis is planning on becoming a chiropractor, specializing in sports medicine. Alexis wants to help grow IdaHOSA in the community, allowing them to see what HOSA does and how our organization is an amazing opportunity for students of Idaho. Alexis will tell you "Always make sure you are having fun in everything you do!"
Region III Susannah (Susie) Christensen will be a senior at Skyview High School. Susie has been an IdaHOSA member since 2022 and after graduation, she is planning on attending Idaho State University, gaining a bachelor's degree in microbiology, and attending Creighton Dental School, with an endodontic residency. As an IdaHOSA officer, Susie would like to gain community involvement, have HOSA members learn from medical experts in their communities, and encourage those professionals to connect with IdaHOSA chapters. Susie's words of encouragement "Go for it all! When any opportunity arises, take it! You will appreciate all of these amazing experiences in your future."
Region IV Andrew Hazen will be a senior at Skyview High School and has been an IdaHOSA member for three years. Upon graduation, Andrew is planning to attend Dental School and become a dentist. His goal as an officer, is to encourage growth in his local chapter, as well as, to encourage the continuous growth of HOSA statewide. Andrew's thoughts are "Find your passion and do something meaningful with it."
Region V & VI Noor Abdulkareem in the fall will be a junior at Meridian Medical Arts Charter (MMACHS) and has been an IdaHOSA Member for two years. After high school graduation, Noor is planning on becoming an orthopedic trauma surgeon. Along with the community, Noor would like to provide HOSA members with the tools and confidence to become the best version of themselves for years to come. Quoting Bruce Wayne/Batman "Maybe that's what Batman is about, not winning, but failing, and getting back up. Knowing he'll fail, fail a thousand times but still won't give up."
Past State Officers
2022-2023
Madison Healy – President
Elijah Zimmer – President Elect
Jentri Van Ackern – Regional Vice President
2021-2022 HOSA State Officers
Madison Healy – President
Xavier Christy – Postsecondary Vice President
2020 – 2021 HOSA State Officers
Olivia Swainston – President
Madison Healy – President Elect
Abegayle Black – Region Vice President
Michael Wilson – Postsecondary Vice President
2019 – 2020 HOSA State Officers
Olivia Swainston – President
Addison Burkett – Region 1 & 2 Vice President
Autumn Morgan – Region 3 Vice President
Daniela Quinatoa – Region 4 Vice President
Halle Torgerson – Region 5 & 6 Vice President
Cole Lancaster – Postsecondary Vice President
2018 – 2019 HOSA State Officers
Levi Zanders – President
Samantha Quantie – President-Elect
Cole Lancaster – Region 1 & 2 Vice President
Isabel Juarez – Region 3 Vice President
Hisham Salhi – Region 4 Vice President
Allison Kurtin – Region 5 & 6 Vice President
Jack Sherlock – Postsecondary Vice President
2017 – 2018 HOSA State Officers
Ara Omotowa – President
Levi Zanders – President-Elect
Lacey Kludt – Region 1 & 2 Vice President
Mahailla Emele – Region 3 Vice President
Sebastian Powell – Region 4 Vice President
Kenya Morales – Region 5 & 6 Vice President
Rodrigo Romero – Secretary
Cameron Williams – Reporter/Historian
2016 – 2017 HOSA State Officers
Elisabeth Stephens – President
Ara Omatowa – President-Elect
Kamryn Austin – Region 1 & 2 Vice President
Sara Bailey – Region 3 Vice President
Alisia Sanchez – Region 4 Vice President
Ashleigh Johnson – Region 5 & 6 Vice President
Brittney Garrett – Secretary
Mhari Mills – Reporter/Historian